Late Night at the ARC
5pm | Sept. 25, 2023
Don't miss UCI Campus Recreation's annual open house event.
Every year over 5,000 new anteaters come to the ARC to get a taste of what Campus Rec has to offer. Learn about UCI's most popular extracurricular activities - Intramural Sports and Club Sports. See class demos from our group fitness program, as well as, dance and martial arts. Get some energy out on our inflatable jungle or take a dip in our open pool. There's something for everyone at Late Night! Come to the ARC, you belong here.
Follow the action at
https://www.instagram.com/ucicampusrec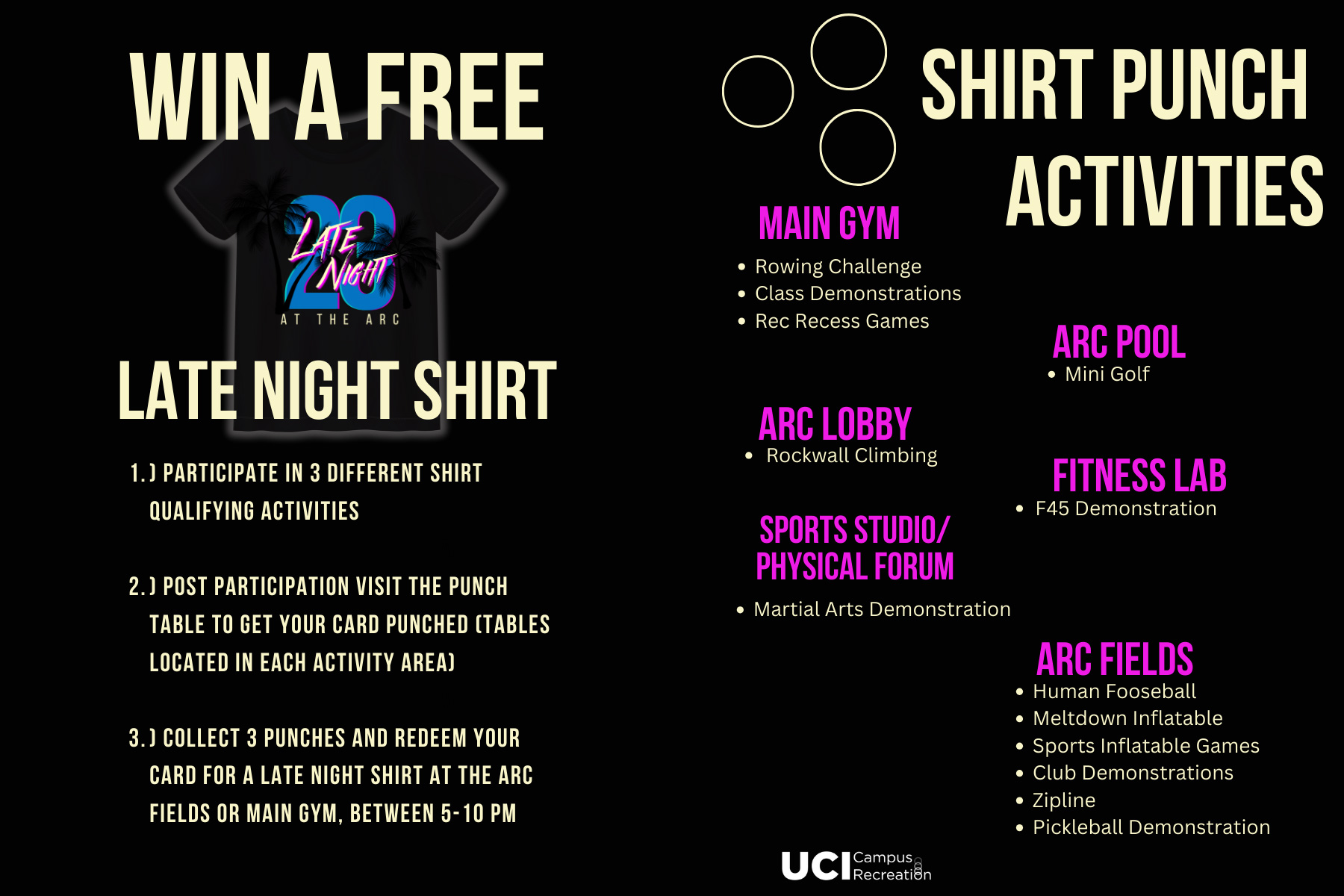 Late Night Schedule
Main Gym
5pm - 9pm
Rowing Challenge
Court 3
5pm - 7pm
Drop-in Basketball
Court 1
5pm - 7pm
Drop-in Badminton
Court 2
7pm - 9pm
Rec Recess
Court 1
7pm - 7:50pm
Fencing
Stage
8pm - 8:20pm
Commercial Dance
Stage
8:30pm - 8:50pm
Zumba
Stage
9:00pm - 9:50pm
Belly Dance
Stage
9:30pm - 10:30pm
3-Point Contest
Court 1
10pm - 12am
Volleyball Tourney
Courts 1-3
Activity Annex
Physical Forum
Sports Studio
8pm - 8:50pm
Japanese Karate
10:30pm - 12:00am
Tricking Club
Kitchen/Classroom
ARC Main Field
5pm - 10pm
Grass Volleyball
Ropes Course
Roller Hockey Rink
5pm - 10pm
Human Foosball
Back Court Gym
8pm - 10pm
Indoor Soccer Tourney
10pm - 12am
3v3 Basketball
Wellness Lab
5pm - 12am
Drop In Weights
7pm - 9pm
Powerlifting Club Demo
Fitness Lab
Rockwall
9pm - 10pm
Aerial Silks Demo
10:30pm - 12am
Climbing Club
Pool Deck
5pm - 11pm
Giant Board Games
5pm - 11pm
Glow in Dark Mini Golf
7pm - 9pm
Innertube Water Polo
Men's WP Club
Racquetball Courts
5pm - 8pm
Badminton Club
Court 1
8pm - 11pm
Wallyball
Court 1
5pm - 8pm
Wallyball
Court 2 & 3
8pm - 10pm
2v2 Dodgeball Tourney
Court 2 & 3
ARC Club Field
Pickleball Courts
5pm - 10pm
Pickleball Competitions
7pm - 9pm
Pickleball Demo